Price includes:
Private Jacuzzi
Sauna
Bathrobes a towels
Bottle of sparkling wine (0.2l)
Additional fee for each extra hour 550 CZK (approx. 22€).

---
We fill the Jacuzzi tub with clean water for each visitor – perfect cleanliness and hygiene guaranteed.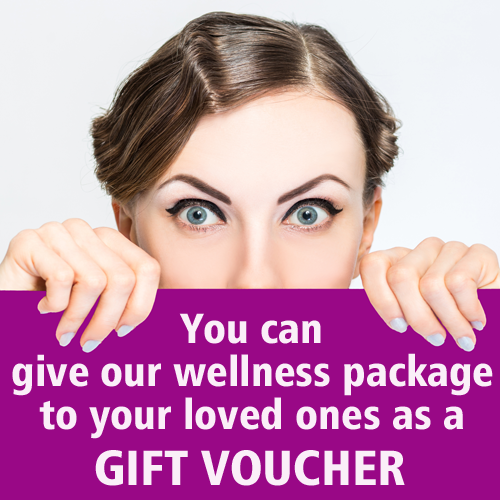 Additional services (a prior reservation required):
Selection of cheeses with nuts and grapes served on a chopping board / 250 CZK (approx. 10€)

Fresh orange juice 0.2l / 80 CZK (approx. 3€)

Chocolate mousse with fresh strawberries / 45 CZK/pc (approx. 2€)

Wine, alcoholic and non-alcoholic beverages, according to current offer
Special baths (additional fee of 150 CZK - approx. 6€):
A peat bath (non-frothy) – extract from healing peat bog has a strong detox effect, it has therapeutic effects on movement problems, skin problems, eczemas, psoriasis and dissolves toxins in your body.
Tangerine bath – the aroma of tangerine is perfect for refreshing and has a strong stimulation effect. It is also used to ease up headaches and migraines as it eases up the tension of our "being".
Brine bath – hydrating bath with sea salt
Calming lavender bath – for centuries, lavender has been used in aromatherapy to help with psychological tensions and headaches. It also helps with flue and respiratory problems.
Refreshing mint bath – peppermint has the best refreshing essential oil. It is used to prepare refreshing beverages and meals in many countries and it is also known for its aphrodisiac effects.
Thai massages (a minimum of 1 day advance reservation required):
The technique of the original Thai massage is very different from the classical one known in Europe that focus solely on muscles and soft tissues. Thai massage pays attention to the whole body putting the strongest emphasis on the muscles of legs, joints, soles of feet and back as the current modern day lifestyle puts the most strain of these parts of our bodies.
Traditional Thai massage: 700 CZK - approx. 28€ (60 min.) / 1000 CZK - approx. 40€ (90 min.) / 1300 CZK - approx. 52€ (120 min.)
Thai oil massage: 900 CZK - approx. 36€ (60 min.) / 1200 CZK - approx. 48€ (90 min.) / 1500 CZK - approx. 60€ (120 min.)
Thai aromatic oil massage: 1100 CZK - approx. 44€ (60 min.) / 1400 CZK - approx. 56€ (90 min.) / 1700 CZK - approx. 68€ (120 min.)
Combined massage: 950 CZK - approx. 38€ (60 min.) / 1790 CZK - approx. 72€ (90 min.) / 2190 CZK - approx. 88€ (120 min.)
Shiatsu: 700 CZK - approx. 28€ (60 min.) / 1000 CZK - approx. 40€ (90 min.) / 1300 CZK - approx. 52€ (120 min.)
Massage "four hands" (Thai oil massage by two massage therapists): 1700 CZK - approx. 68€ (60 min.) / 2300 CZK - approx. 92€ (90 min.) / 2900 CZK - approx. 116€ (120 min.)